Tom started it: "Dick Turpin's Day Out 200km Permanent on Saturday 23rd January — I've not ridden DTDO recently so that's the plan: others are welcome to join us, either from the start in Dunmow [provisionally 08:00] or en-route. If you want to do your own DIY from home, but hooking up with us and utilising part of my route, that's ok by me." Tom's our friendly local Essex audax organiser and Dick Turpin's Day Out his all-season 200km permanent event.
Inevitably I responded with: Hmm, I'm tempted to get out on the bike for the morning — possibly ride down from Cambridge to Walden, ride with to Clare and then ride home again for a nice 100km or so — I haven't asked "permission" yet, so I'll book it with my local DIY org around midnight Friday … and leave a note on the kitchen table as I sneak out into the early dawn
That would be a whole extra point on my FWC brevet
I couldn't ride the whole thing because I had to take the younger youngster to try a fixed-gear bike — I'd promised to do so for several weeks and "not this weekend" was not cutting it any longer. So I figured I'd ride about 100km and be home by one-ish — in the end it was 125km and I was home by 1.15pm. He tried a couple of fixies and decided he would love to have one
The scene was set, tyres inflated, appropriate gear selected, route mapped, bidons filled, alarm set …
At 7am I set out with the aim to ride the hilly route — via Strethall — to Saffron Walden early enough to ride the DTDO route in reverse until I met the main group coming the other way. Then to ride with them to Clare in Suffolk, which is about 25km, before turning left and heading back towards Cambridge.
I made good progress towards Walden and managed to climb out of its gravity well, fettle the bike, and cycle several kilometres before meeting the vanguard. I turned around and hooked on — this being the B184 they were strung out line-astern and I might've upset the flow by riding alongside down the hill. I briefly said hi to Allen, Lindsay and then rode with someone I didn't know. Never mind, only a couple of cars to annoy
I led the way to Tesco and we waited for the main group to arrive and chatted with Alex, whom I videoed with Tom gradually reeling me in towards Lavenham on The Horsepower 200 helpers' ride last year — one of my favourite pieces of video footage from the camera.
By this point I had ridden 40km with a bit of climbing, too. All on fixed — 44x16, or about 72 gear inches. I could feel it in my legs, but I was still feeling chipper.
The day had started much cooler than forecast at about 2ºC and there was a stiff south-westerly with a significant mist forming over the chalky rise of Coploe Hill. By the time we restarted from Walden's Tesco we had a significant tail wind.
As these things have a habit of doing, we strung out a bit from Tesco. I managed to ride with Nik for a minute or two, catching up on how his last season went — 15,011 miles, chapeau! — and his off — no serious injuries, phew! — before the hill ramped up, everyone clicked to a lower gear, except me and a chap on singlespeed — Richard — up ahead: we had no gear to change down to, so we carried on up the hill. As it was the last big hill of the day, I set out to catch Richard by the top and did so, passing Allen, who I'd though would also be out on fixed, and a whole load of other riders.
As I ride with more groups I'm finding fixed is like this: you have to ride quick enough uphill to keep turning the pedals in whatever gear you've chosen, but not so quick that you tire before the top. This means that, at least while I'm still fresh, I often start a climb chatting at the back and finish it puffing and panting at the front, although climbing later in the day does bring out the gurning awards in me
I chatted to Richard for a bit and then dropped back to chat to Tom about my upcoming Pork Pie calendar event, as he's helping me out on it. He was deep in conversation with Nik, so I rode alongside a familiar, but unnameable face (as I get older I get worse at remembering names), who turned out to be Alan — Bernster — who I'd ridden with on a snowy Horses for Courses group perm this time last year; I think he's grown a beard since then.
Someone called "car up!" from the back and everyone slotted into single file and slowed to almost a crawl — I find this mightily annoying, because on narrow roads it's as easy for motor vehicles to pass riders side-by-side as line-astern in terms of road width (lanes and wider roads are different again) and the details of this are probably worth a post on their own. And slowing down doesn't help them either — as done by the lead rider on Saturday — it just annoys drivers even more, unless the group's stopping to allow the pass. So I stayed out and, as we started to climb slightly, rode off the front of the group and caught up with Richard (singlespeed) again, well ahead and with the car still stuck behind them all
After climbing out of Saffron Walden, this entire leg is gently downhill and we had a stiff tailwind, so we were cruising nicely. I managed to get into a bit of TT moment stretched out on the drops with Jason — I've no idea why, but it was fun for a few minutes. He later lamented his early-ride exuberance when he had a significant lack of power … I had the same problem, but sooner.
Riding with Jason, at one point he went behind to let a Discovery go past and wobbled causing the driver to sound his horn and clearly show us the finger as he passed, then stopping sharply in the road immediately in front of us — we rode around him, but apparently him and his wife gave an earful to the group behind! Peace, brother, we're all in this together; and, no, you don't have any more rights to the road than we do, 'm just sayin'! Winter rides tend to stick to main roads, which are gritted, and so we do have to share the road with more motorised vehicles, it's just one of those things. Ah well, I always force myself to smile at the world after this sort of thing happens, letting it all drain away and not affect my ride too much — breathe in … and relaaaxxx
I brought our pace down and let the group hook back on, subsequently dropping back for a chat with Tom. Although he was halfway back in the group, he was riding fixed too and soon we both found ourselves on the front again. Having compared pedal strokes I found we were both riding near enough the same gear, whereas Richard was riding a much shorter gear on singlespeed — it's not important, just an observation.
Questions asked and answered and filed away for when I got home — all good, by the way — I took some photos from the front, slowed to let everyone pass and doubled-back towards Clare to make my return to Cambridge, since we'd long passed by my planned turn point and had just reached the outskirts of Cavendish. However, I'm no longer worried by time on events, as I know I am rarely pushing the limit — the advantage of experience — and so I knew the extra distance wouldn't be a problem.
I passed a slightly slower group on my return and gave them a wave, got passed too close by an impatient white van, who I then re-passed in the traffic through Clare
and then turned right to follow a bit of my Cambridge Diss'd Clare route back towards Cambridge, although adding in some new lanery to file away for future rides.
It was at this point I began to feel my efforts take their toll: I had started the day fasted and with a desire to work hard up the hills and maintain a strong average on the flat. The fasting was to test a point I made in a discussion with CTC friends about how often to eat — so I set out to ride 100km without any food. The hard work was just to build strength on the fixie, which would help throughout the season.
At least the sun broke through for a short while and warmed me up a bit, albeit briefly.
I slowly dragged myself back up onto the chalk ridge that runs to the south-east around Cambridge, aiming for a quick descent to Six Mile Bottom (snigger
). The mist had dropped again and the wind turbines were spinning strongly, their tops lost in the low cloud, and the going felt heavy! The mist gathered on my clear glasses and I pocketed them for a better view. A gradual series of ups and downs and interesting lanes that I recognise from the car (but I'm pretty sure I've never ridden them before) and I came across an incongruous site of windswept pine trees at the bottom of the escarpment, looking like something you'd see on a cliff edge or mountain ridge, but here at just 26m ASL.
Just around the corner I was in Six Mile Bottom (snigger
) and I dived into the store for some much-needed happy food — in fact at this point any food would've done, but they had a fine selection, so I was able to choose their worst
I was now pretty much done with hills. Just 22km back through the centre of Cambridge to home. I chose the Wilbrahams-Fulbourn-Mill Road route using the back-lanes cycle route, for no other reason than for the fun of it. I knew it would negatively affect my moving average, especially as I chatted with a much slower cyclist for a bit (it knocked 0.5kph off my overall moving average for the day), but I could extract that from the numbers on RideWithGPS or Strava:
125km ridden in 6hrs = 20.8kph average overall, which is respectable
30mins stopped = 23.0kph moving average, which is quite quick for me
The first 100km were at 23.5kph moving average
The first 70km, exuberantly on my own in the early dawn and then ridden with the group, were at 24.1kph moving average
The 35km I rode with the group I averaged 26.3kph — I've rarely maintained that sort of pace for more than 100km or so and the downhill and tailwind certainly helped!
I am definitely a quicker rider when I'm riding with others, taking the easy option too often on my own up hills when nobody's looking — what I mean is pedalling slowly, not using the so-called 24-inch gear. However, my base fitness is still visible from last season and from keeping my RRTY going over the winter, boding well for the busy season ahead
At the end I was pretty shattered, and I could feel the effort through my quads and across my upper back.
I also felt pretty dehydrated — winter riding is hard in this respect, because I don't feel myself sweating, so I don't drink, but I still use a lot of water to power the fat-to-energy process. I knew this and drank what I thought was plenty, but it still wasn't enough — food for thought as I peed dark yellow into the pot at home
All in all a fun morning out on the bike — it was great to see everyone after riding solo DIYs for the past four or five months. It was a shame I didn't get to chat with Chris and Lindsay at all, but they bounced the first control, even though the group was stopped for only 10 minutes, and I peeled off the group before the café control at Wally's, Acton, where they waited. And the weather, although misty and with a brisk breeze first thing, was rather nice for a winter ride.
I managed to hand out a few flyers to my March events, and hopefully a couple of extra entries from these: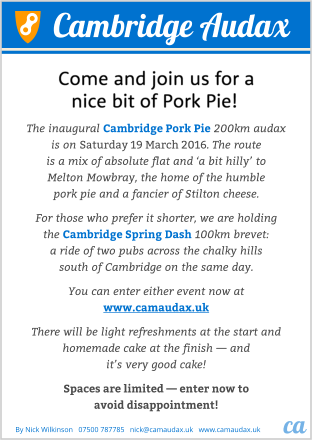 UPDATE 28 January 2016
I came to ride my fixie for the first time today since Saturday and discovered a very creaky chain. Except that when I had gotten the bike on a stand and looked more closely, I discovered that actually one of the locknuts had slipped and the right-hand cone on my rear wheel had tightened to the point of almost seizing the bearing!
No wonder Saturday riding had felt a bit heavy towards the end
A quick trip to my LBS where I bought the bike and Dave opened up the bearing: clearly pitted and worn. He reckons these OEM factory-fit wheels may have been a bit dry on that side and with the inevitable crashing through potholes due to fixie inexperience (I can float a bike à la mountain biking, but only ones where you can stop pedalling) then the cone had just managed to break free of the lock nut and start to tighten up.
Dave regreased and adjusted the bearings and tightened everything up, but cautioned against using it any more than I had to.
As it happens I already have a new rear hub and rim to build an all-black wheel to match my one generator-equipped front wheel, which is shared between bikes, and I'm just waiting for delivery of spokes — I'm hoping to write a wheel-building post on this, as it's a very satisfying endeavour